Click each tab below for detailed descriptions and screenshots on how to do these most commonly used actions. 
Reset your Password
Renew your Membership
Update your Profile
Submit a Post
Apply for Membership
Reset your Password
NOTE: This is a completely new OWAC website!
If you were a member of OWAC in the past, and your membership expired prior to December 2020, you WILL NOT be registered in our new system. Please reapply for membership on our JOIN US page. See the last tab about How to Apply for Membership.
---
Here's how to reset your password.
Click the LOGIN button at the top right of any OWAC.org page.
Click the blue "Lost your password?" text below the LOG IN button.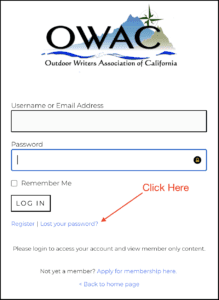 On the next screen enter your email address and don't forget to check the box "I'm not a robot" for reCAPTCHA. Then click "Reset Password."

If you see this error message, "The email entered wasn't found in our database. Please try again."

Perhaps you did not enter your email address correctly. Try the process again and check your spelling.
OR
You are NOT entered in our new system.
If you are not yet a member or you were a member prior to December 2020, then please apply (reapply) to join OWAC.
You will be notified about your application and, when approved, you will receive an email explaining the next steps to pay your dues and manage your new online account.
If you are sure that you are a current or recently expired member and have an account on our system, please write to [email protected].
If you see this message, "Please check your email for the confirmation link."  Please check your email.
If you don't find the email please check your junk and spam folders.
If you still do not find the email please whitelist our official email address: [email protected] and try the "Lost your password?" process again.
When you receive the email, it will look something like this.

Click the link provided and follow the prompts to enter a password. You can enter a new password or reenter one you have used previously. Our system will accept either.
Once you have reset your password, login and you will be automatically directed to your account page.
Now you can renew your membership, if needed, submit a blog post, and update your profile.
Note: Whenever you login anew you will be directed to your OWAC account page. See how to update your account page in a following tab. 
Please browse the many other pages on our site to read our news and member stories, check our events and awards programs, and peruse the gallery of images.

To confirm if you are currently logged in … look at the top right of the page.
If this button says LOG OUT … then you are logged in. Click it to log out. 
Renew your Membership
Update your Profile
Submit a Post
Apply for Membership